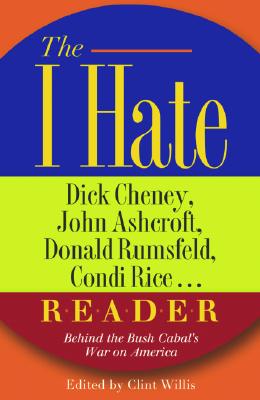 Stock Image -May Not Reflect Actual Item
Author Name Willis, Clint
Title The I Hate Dick Cheney, John Ashcroft, Donald Rumsfeld, Condi Rice... Reader: Behind the Bush Cabal's War on America ("I Hate" Series, The)
Binding PAPERBACK
Book Condition Good
Publisher Thunder's Mouth Press
ISBN Number 1560256206 / 9781560256205
Seller ID SKU07142789
1560256206 Good, paperback binding, light to moderate wear to corners and edges, markings/underlining/highlighting/notes to text, previous owner's signature, remainder mark, sticker/residue, and/or other minor aesthetic flaws. Satisfaction guaranteed. Last Word Books & Press is an Infamous Independent Bookstore and Print Shop located in Olympia, Washington.
Stock Description, May Not Reflect Item
Anyone who's paying attention knows that Bush administration insiders comprise the real axis of evil. There's Dick Cheney, the shadowy kingpin of crony capitalism; Donald Rumsfeld, the military master of Orwellian doublespeak; John Ashcroft, the fundamentalist zealot bent on undermining our basic freedoms; and Karl Rove, the political puppeteer who tells Dubya what to say, think and feel. This Reader draws from the best books, magazine articles, Web sites and blogs-from America's most astute political observers-to expose these reactionaries' hypocrisy, lies and greed-and the way they're abusing our cherished governmental institutions to pursue their own nefarious agendas. It will also shed light on the extremist bureaucrats working in powerful but less public positions, from John Negroponte (former organizer of Nicaraguan death squads, now ambassador to the UN) to Elliott Abrams (convicted Iran-Contra conspirator-cum-Director for Near East and North African Affairs) to John Bolton (Undersecretary of State for Arms Control), who recently asserted that the U.S. reserved the right to nuke non-nuclear enemies.
Price = 6.00 USD