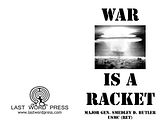 Author Name Butler, General Smedley D.
Title War Is a Racket: Antiwar Classic by America's Most Decorated Soldier by Butler, General Smedley D. by Butler, General Smedley D.
Book Condition New
Publisher Panurge Press::Last Word Press
Seller ID LED00001922
New. No dust jacket as issued. Brand New! Support Pacific Northwest Independent Booksellers! stapled, photocopied zine/pamphlet; 12 pages In "War Is A Racket", Butler points to a variety of examples, mostly from World War I, where industrialists whose operations were subsidised by public funding were able to generate substantial profits essentially from mass human suffering. work is divided into five chapters: 1. War is a racket 2. Who makes the profits? 3. Who pays the bills? 4. How to smash this racket! 5. To hell with war! and contains this key summary: "War is a racket. It always has been. It is possibly the oldest, easily the most profitable, surely the most vicious. It is the only one international in scope. It is the only one in which the profits are reckoned in dollars and the losses in lives. A racket is best described, I believe, as something that is not what it seems to the majority of the people. Only a small 'inside' group knows what it is about. It is conducted for the benefit of the very few, at the expense of the very many. Out of war a few people make huge fortunes. " book is also interesting historically as Butler points out in 1935 that the US is engaging in military war games in the Pacific that are bound to provoke the Japanese. "Japanese, a proud people, of course will be pleased beyond expression to see the united States fleet so close to Nippon's shores. Even as pleased as would be the residents of California were they to dimly discern through the morning mist, the Japanese fleet playing at war games off Los Angeles. " Butler explains that the excuse for the buildup of the US fleet and the war games is fear that "the great fleet of this supposed enemy will strike suddenly and annihilate 125, 000, 000 people.
Price = 3.00 USD