Last Word Press is Looking for Submissions!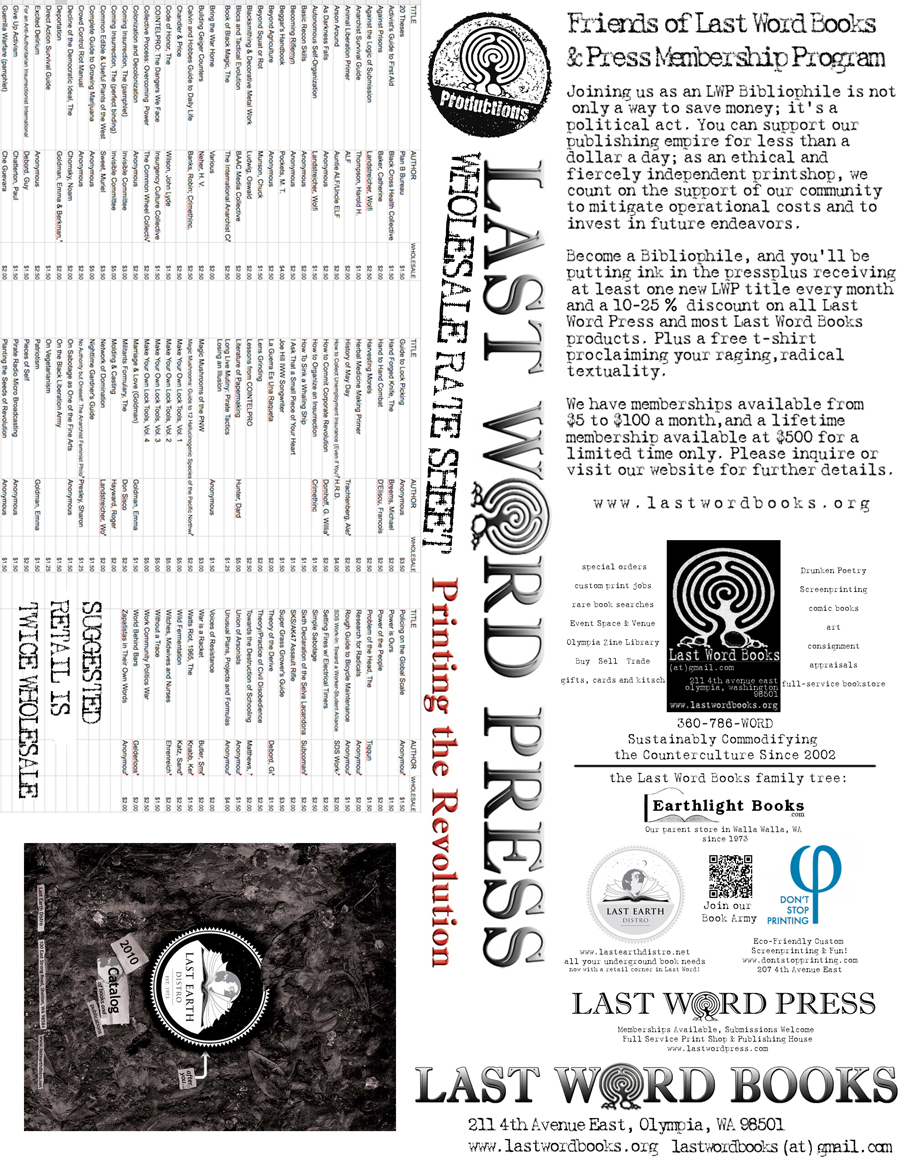 - Books, Poems, Zines, Fiction and Non-fiction
e-mail   [email protected]   with submissions & questions
 
Last Word Press
   The publishing wing of our little empire is about to kick into high gear. So if you're an adept with the pen as well as the sword, perhaps you should send a little something our way.
   Lemme guess, you went to Evergreen, traveled the world, smoked a bunch of dope, had a wild and crazy ball and think you have a book in you. Well, we'll be the judge of that, hippy.
   Got a crazy survivalist know-it-all uncle living in your attic? Give him a bottle of Jack, a typewriter and get him all riled up and see what pops out the other end. 
   Got a radical performance poet for a nephew? Send 'em our way.
The stranger the better, but polished is appreciated. No total nut-jobs please, that's why Yahweh invented Lulu for you bobos.
---
Friends of Last Word Books & Press Memberships

 

The tumult of our day is plain: multinational systems of power and money crumble, fractures gnaw at the base of the status quo. We print for the citizens of tomorrow.

Since our conception in 2002, Last Word Press has ascended from a garage operation to become one of the defining radical publishersof the Pacific Northwest. We have published scores of pamphlets, books, zines, posters, and indefinables, plus internet media, for the edification of the reading public. (And that's just the beginning of the landslide.) Ranging from politics to gardening to sex to revolution, we seek—to spread the words.

Joining us as an LWP Bibliophile is not only a way to save money; it's a political act. You can support our publishing empire for less than a dollar a day; as an ethical and fiercely independent printshop, we count on the support of our community to mitigate operational costs and to invest in future endeavors. Become a Bibliophile, and you'll be putting ink in the press—plus receiving a new LWP title every month and a 10-25% discount on all Last Word Press and most Last Word Books products. Plus a free t-shirt proclaiming your raging textuality. Who can turn down a t-shirt?

-$5 per month: a new title from LWP each month, fresh off the press and delivered to your door.

-$10 per month: two new titles from LWP each month, plus a 5% discount on all LWP/most LWB merchandise and a 10% discount on purchases from our website.

-$25 per month: three new titles from LWP each month, plus 10% discount/20% web-discount, plus a hot and inky t-shirt.

-$50 a month gets ya one of every title we print plus 15% discount/20% web-discount, a tour of our print shop, 15% off any printing jobs you may require, and somehow, an even hotter t-shirt.

- for $100 a month you'll receive: a 25% discount in our store and on the web, a 25% discount on printing-press projects, one copy of everything we print, and one of every LWB t-shirt we press!

-$1000: a LIFETIME MEMBERSHIP with 25% discount in store and online, 30% off press jobs, a copy of every title we ever print delivered to your door, every t-shirt we ever press, a copy of every letterpressed broadside we ever produce, a Last Word Books & Press eco-friendly shopping bag, and the sincere thanks of your impoverished printers. THIS IS A LIMITED-TIME OFFER AND HAS ALREADY GONE UP FROM $500!

We accept Visa and BLAH, which will be billed on a monthly basis and can be cancelled at your behest and/or the collapse of the financial system and pursuant dictatorship of the proletariat, or something.

 

BLAH BLAH DIRECTIONS FOR OVERSEAS SHIPPING PAYMENT BLAH.

The naysayers of the orbis digitalis have long declared the death of the printed word. We refuse to let that happen. Join us.

Last Word Books and Press: fiercely independent since 2002.

 

 
Click on Title to view full description
 

   1 .  
Friends of Last Word Books & Press LIFETIME Membership - $1000.00 one-time payment
Last Word Press New 
-$500: a LIFETIME MEMBERSHIP with 25% discount in store and online, 30% off press jobs, a copy of every title we ever print delivered to your door, every t-shirt we ever press, a copy of every letterpressed broadside we ever produce, a Last Word Books & Press eco-friendly shopping bag, and the sincere thanks of your impoverished printers. THIS IS A LIMITED-TIME OFFER! By purchasing this item, you are agreeing to a one-time payment of $1000.00 in exchange for a lifetime membership to Last Word Books and Press. Thanks so much for your support, you just became a friend for life!  
Price: 1000.00 USD 



 

  4 . 
Friends of Last Word Books & Press Monthly Membership - $25.00 a month level
Last Word Press New 
-$25 per month gets you: three new titles from LWP each month, plus 10% discount/20% web-discount, plus a hot and inky t-shirt. By purchasing this item, you are agreeing to pay $25.00 a month to Last Word Books and Press for your chosen level of the items and services listed above. If you pay by credit card, your card will be charged monthly. Likewise, if you pay via Paypal or Google Checkout you will be billed monthly. If you would like to pay with another method, please contact us at [email protected] with Membership in the subject line. You may cancel your subscription at any time. Thanks for your support!  
Price: 25.00 USD



 
 

   2 .  
Friends of Last Word Books & Press Monthly Membership - $10.00 a month level
Last Word Press New 
-$10 per month gets you: two new titles from LWP each month, plus a 5% discount on all LWP/most LWB merchandise and a 10% discount on purchases from our website. By purchasing this item, you are agreeing to pay $10.00 a month to Last Word Books and Press for your chosen level of the items and services listed above. If you pay by credit card, your card will be charged monthly. Likewise, if you pay via Paypal or Google Checkout you will be billed monthly. If you would like to pay with another method, please contact us at [email protected] with Membership in the subject line. You may cancel your subscription at any time. Thanks for your support!  
Price: 10.00 USD 



 

  5 . 
Friends of Last Word Books & Press Monthly Membership - $5.00 a month level
Last Word Press New 
-$5 per month gets you: a new title from LWP each month, fresh off the press and delivered to your door. By purchasing this item, you are agreeing to pay $5.00 a month to Last Word Books and Press for your chosen level of the items and services listed above. If you pay by credit card, your card will be charged monthly. Likewise, if you pay via Paypal or Google Checkout you will be billed monthly. If you would like to pay with another method, please contact us at [email protected] with Membership in the subject line. You may cancel your subscription at any time. Thanks for your support!  
Price: 5.00 USD



 
 

   3 .  
Friends of Last Word Books & Press Monthly Membership - $100.00 a month level
Last Word Press New 
- for $100 a month you'll receive: a 25% discount in our store and on the web, a 25% discount on printing-press projects, one copy of everything we print, and one of every LWB t-shirt we press. By purchasing this item, you are agreeing to pay $100.00 a month to Last Word Books and Press for your chosen level of the items and services listed above. If you pay by credit card, your card will be charged monthly. Likewise, if you pay via Paypal or Google Checkout you will be billed monthly. If you would like to pay with another method, please contact us at [email protected] with Membership in the subject line. You may cancel your subscription at any time. Thanks for your support!  
Price: 100.00 USD 



 

  6 . 
Friends of Last Word Books & Press Monthly Membership - $50.00 a month level
Last Word Press New 
-$50 a month gets ya one of every title we print plus 15% discount/20% web-discount, a tour of our print shop, 15% off any printing jobs you may require, and somehow, an even hotter t-shirt. By purchasing this item, you are agreeing to pay $50.00 a month to Last Word Books and Press for your chosen level of the items and services listed above. If you pay by credit card, your card will be charged monthly. Likewise, if you pay via Paypal or Google Checkout you will be billed monthly. If you would like to pay with another method, please contact us at [email protected] with Membership in the subject line. You may cancel your subscription at any time. Thanks for your support!  
Price: 50.00 USD