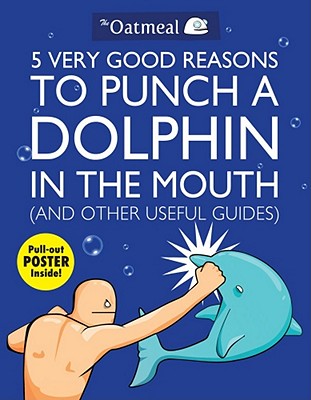 Stock Image -May Not Reflect Actual Item
Author Name The Oatmeal; Inman, Matthew
Title 5 Very Good Reasons to Punch a Dolphin in the Mouth (And Other Useful Guides) (The Oatmeal)
Binding PAPERBACK
Book Condition Very Good
Publisher Andrews McMeel Publishing
ISBN Number 1449401163 / 9781449401160
Seller ID SKU20159435
1449401163 ~Very Good. Light shelf wear to covers/corners. Trade paperback binding. Support Last Word Books & Press and other independent booksellers. For more information about a specific title please feel free to contact us with your questions.
Stock Description, May Not Reflect Item
Prepare to laugh your ass off. The hilarity of TheOatmeal.com is now presented in book form with 35 never-before-seen pieces and 25 classic favorites from the Web site, including 6 Types of Crappy Hugs and 17 Things Worth Knowing about Your Cat.
In Matthew Inman's "New York Times" best selling "5 Very Good Reasons to Punch a Dolphin in the Mouth (And Other Useful Guides)," samurai sword-wielding kittens and hamsters that love .50-caliber machine guns commingle with a cracked out Tyrannosaur that is extremely hard to potty train. Bacon is better than true love and you may awake in the middle of the night to find your nephew nibbling on your toes.
Inman creates these quirky scenes for theoatmeal.com, which launched in July 2009 and already has more than 82 million page views. In fact, every 15 to 30 seconds, someone Googles one of theoatmeal.com's creations. Now, 60 of Inman's comic illustrations and life-bending guides are presented in full-color inside "5 Very Good Reasons to Punch a Dolphin in the Mouth (And Other Useful Guides)." Consider such handy advice as: 4 Reasons to Carry a Shovel at All Times, 6 Types of Crappy Hugs, 8 Ways to Tell if Your Loved One Plans to Eat You, 17 Things Worth Knowing About Your Cat, and 20 Things Worth Knowing About Beer.
Price = 7.00 USD